Newsletters
Dear parents, carers, staff, governors and friends,
This week at Brindishe Manor
'Celebrating Diversity' Week
There has been a 'buzz' around the school all week as children have explored the theme 'All different, all equal' for 'Celebrating Diversity' week. We have been challenging stereoptypes for example around age, gender and ability and have been exploring and celebrating different families, faiths, cultures and backgrounds.
Thank you to everyone who has taken part in our baking competition today. You have created an amazing selection of cakes and treats to help us celebrate our diverse community.
We are delighted to announce that the winning prize, a £20 Sainsburys voucher is shared between Grace, Maisy and Lily in Diamond, Ira in Amethyst and George in Topaz: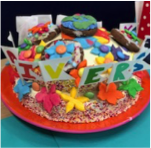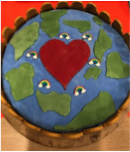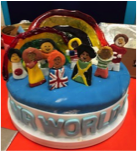 Runner up certificates go to:
Alec in Amber and Thea in Moonstone
Mabel in Sapphire and Isaac in Jet
Well done to everyone who took part and to the Diversity children's team who had the very difficult job of judging!
Please pop into Central Hall at the end of the day to buy some delicious cakes and to have a look at some of the learning that has taken place over the week.
Many thanks to the whole school Diversity team for their hard work in planning and organising the week.
Shakespeare for Schools Festival - The 'Brindishe Players' perform Shakespeare's 'The Tempest'
On Tuesday our talented Y6 actors from across all three Brindishe Schools performed
'The Tempest' at the Albany Theatre in Deptford. It was a breathtaking performance from such a young cast. Each and every one played their role with confidence and 'spirit' and they got a very well deserved standing ovation! Many thanks to all the Y5 and Y6 children across our schools who contributed to bringing the performance together. Special congratulations go to Sujai, Jack, Gretchen, Cameron, Lizzie and Jacob, our actors from Brindishe Manor. They were all superb! The group will get to perform one last time at Brindishe Green next week for all their Y6 friends and supporters.
Huge thanks go to the adult team led by our very own Kimberley Givens and supported by Shirley Haughton at Brindishe Lee and Alex Seabourne at Brindishe Green. Putting on a show like this takes time, energy and huge dedication and is a perfect example of how, at Brindishe, 'Together we're more'. Being members of the 'Brindishe Players' has given these children an unforgettable experience and even, perhaps, a taste for a career spent treading the boards…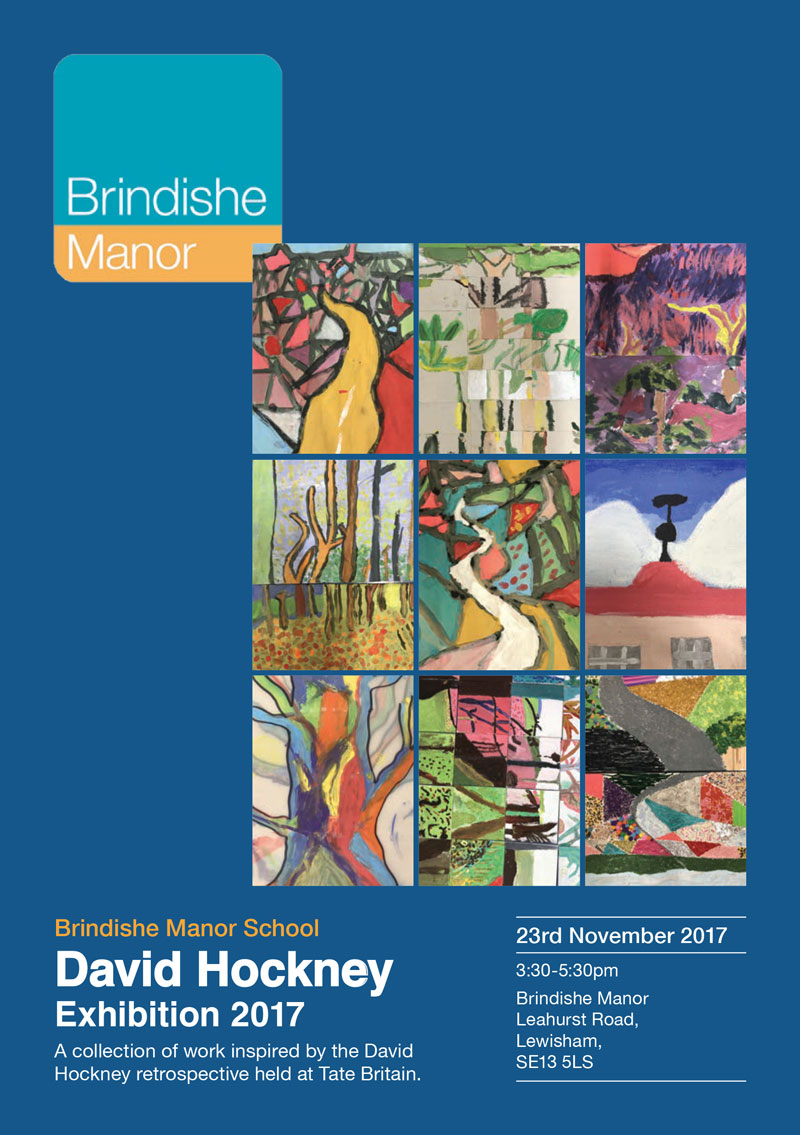 Hockney Exhibition at Brindishe Manor, Thursday 23 November
Please come along to Central Hall straight after school next Thursday to see some fantastic children's art. Inspired by the work of David Hockney, it features art created during the summer term by every year group in school, from Nursery to Year 6. The exhibition runs until 5.30pm. Everyone welcome!
Book Fair
Our Book Fair is here for the next few days. Please visit at the following times and support our school:
Fri 17: 3.25 – 4pm
Mon 20: 3.25 – 4pm
Tues 21: 3.25 – 4pm
Wed 22: 8.45 – 9.15am, 3.25 – 4pm
Crisis at Christmas
Over the next few weeks we will be asking our children to think about the ways in which they can work together as a class to raise money for this worthwhile charity which supports homeless people. This might be helping at home with jobs such as washing the family car, keeping their bedroom tidy, washing up or helping with housework to raise money. We really want children to be doing something rather than just asking for donations.
Last year, we cooked food, made gifts, helped at home and even wore our Christmas jumpers to school for a day. In total we raised over £2,500 across the three schools and we hope to raise even more this year.
If you would like more information about the work of Crisis at Christmas, go to https://www.crisis.org.uk/get-involved/reserve-a-place-at-crisis-at-christmas
Pizza!
Mrs Da Silva reports: 'Amber class is selling pizza dough every Friday after school as part of their enterprise project. They are using their maths skills to measure ingredients, work out costs and to price and sell their dough! Prices start from £3. Check out their full price list on the windows of Amber class and place your order by Thursday afternoon with Mrs Da Silva. Thank you for your support.'
Fantastic attendance!
Well done to these classes:
Jet 98.7%
Amethyst 99.3%
Dates for your diary
17, 20, 21 and 22 November Book Fair
21 November Full Governing Body meeting, 6pm at Brindishe Lee. Please let us know if you would like to attend as an observer.
22 November Parent workshops on early reading and writing 9.15am (crèche available) and 5.30pm
23 November Hockney Exhibition at Brindishe Manor
28 November Open Day for prospective parents and carers 9.15 – 10.30am and 5 – 6.15pm
1 December PSFA Winter Fair 3.15 – 5pm
6 December EYFS/KS1 winter performances
9.30am Jade am, Emerald, Turquoise, Onyx, Ruby
2.15pm Jade pm, Moonstone, Jasper, Amethyst
7 December
9.30am Jade am, Moonstone, Jasper, Amethyst
2.15pm Jade pm, Emerald, Turquoise, Onyx, Ruby
Tickets available from 27 November
13 December KS2 winter performances
9.30am Diamond, Jet, Topaz, Sapphire
2pm: Opal, Quartz, Amber, Pearl
14 December KS2 winter performances
9.30am Opal, Quartz, Amber, Pearl
2pm: Diamond, Jet, Topaz, Sapphire
Tickets available from 4 December
18 December Children's Christmas Lunch
18 December Choral Concert, 3.30pm
19 December Musicians' Concert 5.45pm (changed from 27 Nov)
20 December Last day of term
Is your child due to start primary school in September 2018?
Please make sure you apply online at www.eadmissions.org.uk. You can apply for up to six schools either in Lewisham or outside the borough. You list them in order of preference. The closing date is 15 January 2018.
And finally…
Parents and carers of children in Nursery, Reception and Year 1 are invited to come along to the workshops on early reading and writing next Wednesday (see diary dates for timings). We look forward to seeing you there.
Best wishes,
Gerlinde Achenbach,
Headteacher
PSFA (Parents, Staff, Friends Association) News
WINTER FAIR - DECEMBER 1ST AFTER SCHOOL – 3.15pm
VOLUNTEERS
Thank you to the parents, carers and staff who have already volunteered their time to help. We are still short of face painters and refreshment servers for the second hour of the fair 4.15-5.15. Please consider helping us out - we promise it's a lot of fun and you make friends in the process!
DONATIONS
We are in great need of donations for the children's tombola and for the adults' Present Room'. Any new toys and books are welcome for the children, and any unwanted unused gifts can be recycled for the present room, where the children can choose and wrap a present for their grown-ups. Please leave your donations in the boxes which are outside the school office every morning.
SANTA'S GROTTO
We have had word from the elves that Santa will be visiting our Winter Fair! Children can reserve a time to come and visit him at the start of the fair. Slots run from 3.30-5pm and cost £2. Don't forget to come at the beginning of the fair to reserve your time for a chat with our special visitor!
Thank you all for your support as always.
Have a great weekend
The PSFA TEAM
CONTACT US
brindishemanorpsfa@gmail.com
Facebook: Brindishe Manor PSFA